Today we'll take a look at three top slots - Big Bass Bonanza, Book Of Dead and Fruit Million. All of these slots have great graphics and exciting gameplay that can keep you hooked for hours. Plus, they all offer a chance to win big. These slots are top of the line and offer some of the best gaming experiences out there. They also come with excellent bonuses, including free spins and cash prizes. Best of all, they can be played at Kakadu Casino, one of the most reputable online gambling sites around. So, if you're looking for some fun and potentially profitable gaming action, these slots are definitely worth a try!

Book Of Dead Review 2023
The main symbols in Egypt-themed online slot machines are the Pharaohs, Cleopatra, the pyramids and other classic attributes on the theme. In addition, these slot machines offer special symbols, bonus games and fairly simple gameplay. Most online slots on the Egyptian theme - five-reel, and the game with three reels are found today much less frequently.
The main subgenres of Egyptian slot machines:
• Pharaohs;
• Egyptian gods;
• Treasures;
• Pyramids;
• The secrets of the tombs and mummies.
Egyptian slot machines usually contain images of symbols of power (staff and lash), pyramids, scarabs, Egyptian gods (most often Ra and Anubis), ankh, a hieroglyph in the form of an eye.
So, what is the legendary Book of Dead? If you don't already know, it's time to fill the gap.
Book of Dead is one of the most popular slots in the book series, dedicated to the search for ancient treasures of Egypt. This game was released by Play'n GO in 2016 and quickly became one of the top slots at many online casinos.
If you're looking for an exciting game with a bit of mystery, then Book of Dead may be the perfect choice for you. It's all about unlocking the mysteries of the Book of the Dead, and doing so could bring unheard of riches.
With great graphics, an immersive soundtrack, and features like expanding symbols, scatter symbols, and free spins, there's a lot to look forward to when playing this game.
What Book of Dead is about
The Book of Dead slot machine features card symbols ranging from ten to Ace, plus several Egyptian characters that bring additional bonuses. The Pharaoh symbol is a special one, offering up to 2000 coins if three or more of them appear on the field. Horus and Anubis will bring from 5 to 750 coins, while Rich Wild can bring up to 5000 coins if three of them appear. Rich Wild appears often enough to make the game popular among players. The maximum win rate is relatively low, compared to other slots with similar themes, but the win rate of a hundred times a thousand on small bets still makes it attractive to players who don't want to wait for a long-awaited half-million payout.
Interface of the Book of Dead slot machine
Book of Dead has a user-friendly interface, making it a great choice for all types of players. The main and auxiliary panels are located below the reels and are used to change bets, spin the reels, and open the payout table. The left side of the main panel has a key to start automatic spins. The sub panel is used to keep track of the balance, bet in credits, and amount earned per spin.
On the left side of the sub panel, you can find turbo mode startup and sound controls. This slot machine works well on a variety of platforms, such as iOS, Android, BlackBerry, and Windows Phone. To successfully bet from their mobile phone, users are recommended to download a modern browser.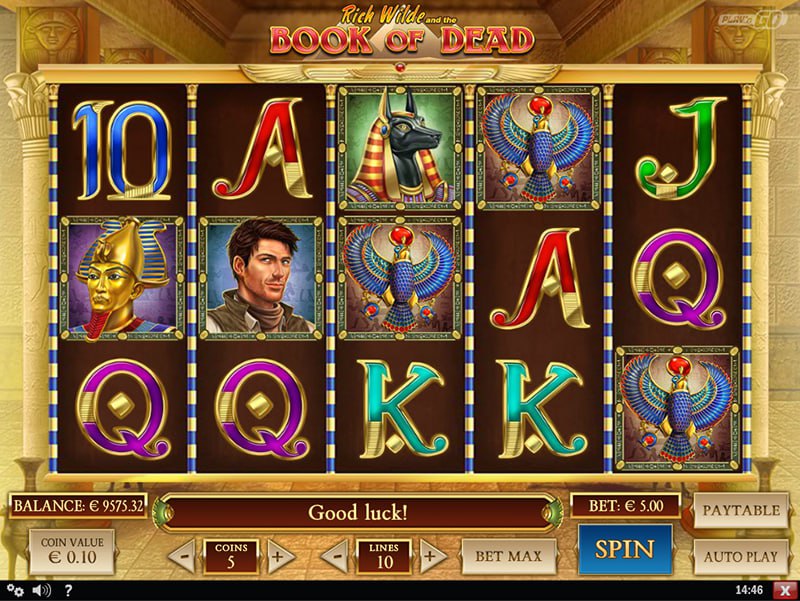 Book of Dead Demo Mode
One of the best features of the Book of Dead slot machine is that it offers a free demo mode. This means that players can try out the game without having to risk any of their own money. In demo mode, all of the same features are available as in real-money play, but players cannot win any real cash prizes.
This allows them to get a feel for the game and its mechanics before deciding if they would like to play for real money. Playing Book of Dead in demo mode is an excellent way to become familiar with the game before playing for real money.
Kakadu Casino invites you to play this slot for free and see for yourself that this game is so popular for a reason.
Conclusion
So, let's recap and highlight the main advantages of this game. The Book of Dead slot machine is the perfect game for slot aficionados who are looking for a classic experience. Developed by Play'n GO, this online game is set in an ancient Egyptian theme and takes players on an exciting journey in search of the great treasures of this mysterious civilization.
This five-reel, three-row, ten-payline slot has been designed to emulate the style of an ancient book. The graphics are all ancient Egypt-inspired, featuring a number of pyramids, mummies, sarcophagi and hieroglyphic symbols.
When it comes to the gameplay, the Book of Dead slot is relatively straightforward. The game revolves around a special book that contains wild symbols, which can expand to cover an entire reel and award an extra bonus spin. There are also scatter symbols which can award bonus spins and lead to some fantastic cash prizes.
Players can wager anything from 0.10 to 100 coins per spin and benefit from an impressive return to player (RTP) rate of 96.21%. With a generous selection of bonus features and the possibility of triggering multiple bonus spins with each spin, there are plenty of opportunities to take home some fantastic wins.
Overall, the Book of Dead slot machine is an excellent choice for those players who are looking for a thrilling game with a great mix of exciting features and rewarding gameplay. It offers a generous payout rate, a nice selection of bonuses and the chance to discover some hidden treasures in ancient Egypt. Highly recommended!
Big Bass Bonanza Slot Review
Slot machines about wildlife, as a rule, five-reel and have a colorful interface and offer various bonuses: freespins, respins, interactive mini-games, and so on.
Conventionally, slot machines about animals are divided into the following types:
• About pets;
• About jungle inhabitants;
• About the Arctic and Antarctica;
• A separate type - slot machines devoted to monkeys;
• Underwater world;
• insects, bugs and butterflies;
• Birds;
• Dinosaurs;
• Fantasy.
Most often there are slot machines with predators - wolves, bears, panthers, eagles. Machines about the underwater world contains symbols with fish and sharks. Many slot machines were dedicated to dinosaurs and prehistoric fauna.
Fishing slot machines have not made it onto the list, but they do belong to the underwater slot cohort.
Now you will find out if it is easy to catch a big fish and what is the price of such an adventure.
Big Bass Bonanza is a fishing-themed video slot game created by Pragmatic Play in December 2020. This game has a lot to offer, including an exciting free spins bonus round that has winnings multipliers of up to x10. The slot machine has a high return percentage of 96.71% and its volatility ranges from medium to high. The theme of the game is fishing and the main character is a famous fisherman.
The Big Bass Bonanza slot game features interesting bonuses, nice music, and high-quality graphics with lots of animation. Players will have the opportunity to experience an immersive gameplay, thanks to the exciting bonuses that can be won in the game. Players can also enjoy the beauty of nature as they make their way through the bonus rounds.
Big Bass Bonanza can be played in our casino for money or for free. With its amazing bonuses and exciting gameplay, this game is sure to be a hit with slot players of all levels. So why wait? Try your luck now and see if you can catch the biggest fish around!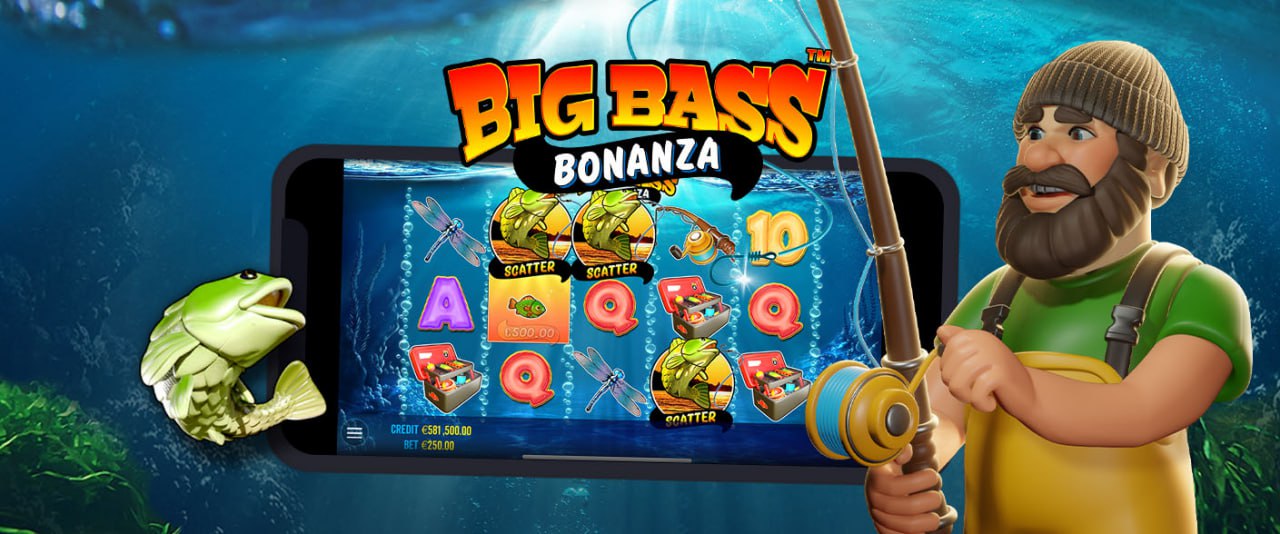 What Big Bass Bonanza is about
Big Bass Bonanza is a great looking slot game with fun animations and characters that draw you in right away. The visuals of the game are quite striking, featuring a friendly fisherman as the main character and a 5x3 playing field with several fish symbols and special symbols like Wilds and Scatters. The sound effects are also quite immersive, creating an incredible atmosphere that really immerses the player in the game.
The game features two categories of symbols: Special (Scatter and Wild) and Simple (all other symbols). The Wild symbol is universal and can be used in any combination to replace any other symbol, thus allowing for more winning combinations.
The main character, a friendly fisherman, tries to catch the biggest fish on the reels. When three or more Scatter symbols (a perch with a hook) appear on the reels, the bonus round is triggered. During this round, the fisherman acts as a Wild symbol and can catch more fish on the hook, each of which has a monetary value. So, with a bit of luck, the player can get a big catch and earn some nice prizes.
Interface of the Big Bass Bonanza slot machine
The Big Bass Bonanza slot machine is an incredibly immersive and entertaining game, with an impressive and captivating interface. The slot features five reels and four rows, as well as a total of 10 paylines. The backdrop of the slot is a deep blue sea, where you can catch some big fish. The symbols are a mix of playing cards, as well as anglers, boats, lures, tackle boxes and more. When you spin the reels, they animate nicely and the music is soothing.
The overall design of the Big Bass Bonanza slot machine is pleasing to the eye, with plenty of vibrant colors that make it enjoyable to play. The betting range starts from 0.10 up to 100.00 cents per spin. You can also adjust the number of paylines you would like to activate for each spin. There are also several bonus features available, including wild symbols, free spins and scatter symbols. All of these special features help to increase your chances of winning big prizes.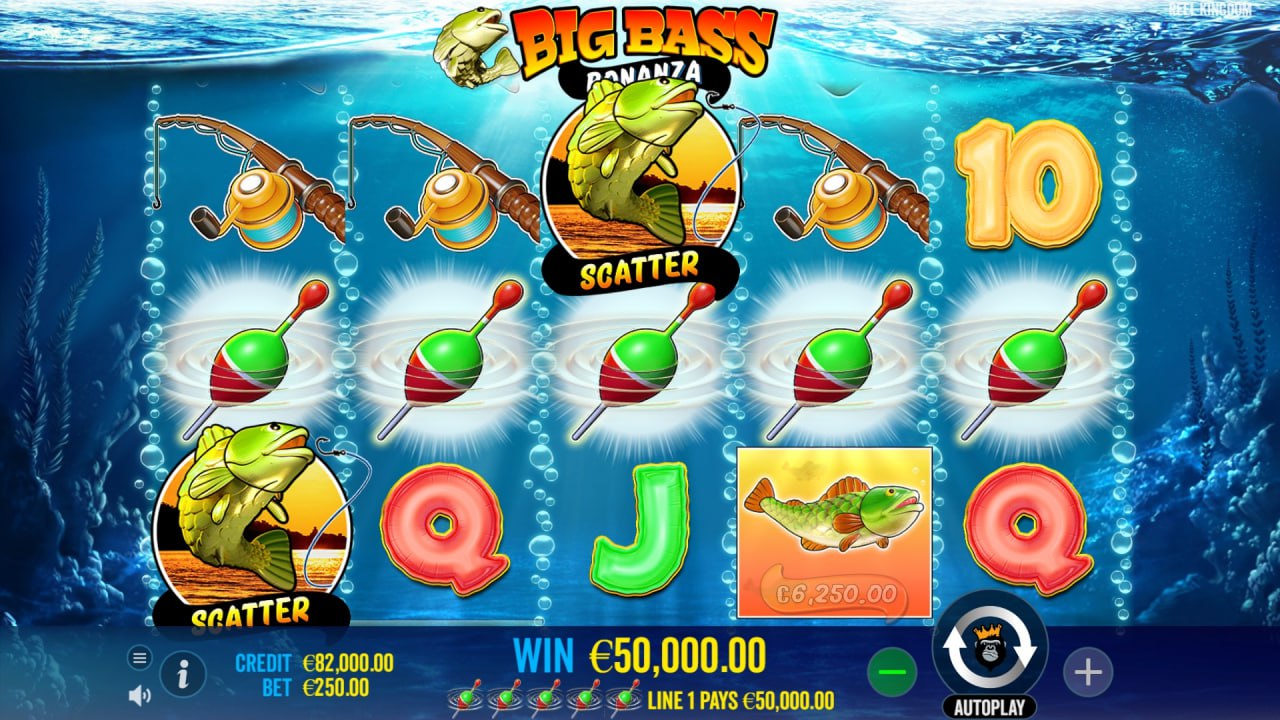 Characteristics of a slot machine
Slot machines are popular in casinos all over the world and Kakadu Casino is no exception. The Play'n Go slot machine offers a range of features that make it one of the top slots at Kakadu Casino. Players can activate from 1 to 10 paylines, depending on how much they want to bet. The betting range goes from 0.01 to 200 coins, and players have the chance to win up to x5,000 multipliers on their bets.
This slot machine has a declared RTP of 96.21%, so users are guaranteed a fair chance to win. In addition, the slot has built-in bonuses such as freespins, symbol substitution and other special features that boost its payout even further. This makes it an attractive option for both beginner and experienced players, as the wide range of accepted bets makes it accessible for all types of gamblers.
Big Bass Bonanza Demo Mode
If you're new to the world of online slots and you're looking for a way to test out the game before committing to real money play, then the Big Bass Bonanza demo mode is a great option. Demo mode allows you to play the game with free credits and get a feel for the game before playing with real money.
With Big Bass Bonanza, you will find that demo mode is a great way to experience all the features and understand how the game works. So that you can spin the reels as much as you like without having to use your own money. This gives you an opportunity to explore all the different features such as bonus rounds and free spins and get used to how the game plays. You can also practice betting strategies to see which ones give you the best chance of winning.
Demo mode also allows you to enjoy all the graphical details of the game without having to risk any of your own money. This is especially helpful if you are looking to try out a new game. You can get an idea of how it looks and feels, as well as getting an idea of the different symbols and their payouts.
Playing in Big Bass Bonanza for free in Kakadu Casino is a great way to familiarize yourself with the game before jumping into real money play. It's a great way to explore all the features of the game and practice betting strategies without risking any of your own money.
Conclusion
Big Bass Bonanza is an exciting slot machine game with tons of winning opportunities. It features a vibrant, cartoonish design that creates an enjoyable playing atmosphere. With a variety of symbols and symbols animations, the game always remains visually appealing and engaging. The gameplay itself is easy to learn and simple to understand, allowing both experienced players and newcomers to the game to have a fun and profitable experience.
The betting range is wide, accommodating all players regardless of their bankroll. And the slot's bonus round allows for a chance to multiply one's winnings in an even more dramatic way. Finally, the frequent winnings on offer can also lead to quick and significant returns on one's investment. In summary, Big Bass Bonanza is a fantastic and rewarding game for slot players of all skill levels.
Fruit Million Slot Review
The first and most noticeable feature of fruit slots are the images. The reels mostly feature plums, cherries, watermelons and other fruits. Also popular are symbols of sevens, BARs, jokers and diamonds.
Fruit slots are a genre of classic slot machines. Mechanical and electromechanical slots have been three-reel machines for most of their history. The vast majority contained fruit symbols. Hence, many online slots in this genre are now three-reel slots.
Three-reel fruit slots are usually very simple. They offer simplified gameplay, often without bonus games. They contain up to 9 prize lines, so it's difficult to win. They have the advantage of being able to hit the big payout or progressive jackpot.
Five-reel fruit machines are also common. With more reels, these slots offer special symbols, bonus games, freespins, reps and other bonuses. However, they are often very simple.
Now we're going to talk about one of the most famous representatives of this type of slots.
Fruit Million is a popular slot game with 100 paylines and millions of chances to win. It has recognizable symbols such as fruits, diamonds, bells, and four-leaf clovers, and the game changes its skin to different festive looks throughout the year.
The Wild symbol in Fruit Million substitutes for all symbols except for Scatters, and it can expand on the whole reel to form winning combinations. There is also a Gamble round where players can increase their winnings by guessing the color or suit of a face-down card.
Overall, Fruit Million offers a great gaming experience with plenty of chances to win big. The bright visuals and entertaining gameplay make this a slot game you won't want to miss out on!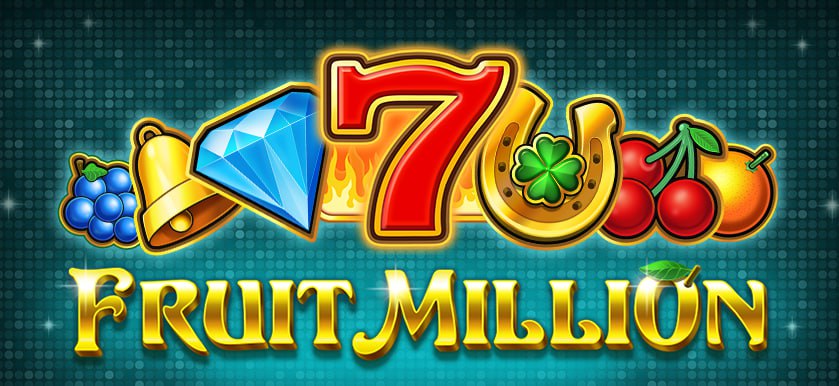 What Fruit Million is about
Fruit Million is a classic slot game that will take you back to the days of old school times. This 5-reel slot machine has an interesting array of features that are sure to keep you entertained. The Wild & Expanded Wild Symbol feature involves egg-shaped gems in yellow, red, green and blue hues that substitute any other symbol except for the scatters to make winning combinations. The Gamble feature allows players to multiply any win by guessing the color of the card.
And lastly, the Stacked Symbols feature involves the number 7 symbol that can cover either a part of or the whole reel. So, if you're looking for a fun and exciting slot game with good odds, Fruit Million is definitely worth a spin. And you can do it right now at Kakadu Casino.
Interface of the Fruit Million Slot
The Fruit Million slot machine has an attractive interface that is sure to keep players engaged. The game features a 5x3 field with the reels appearing in the center of the screen. There are 20 paylines running across the reels and each spin can activate all of them. The symbols consist of various fruits such as oranges, lemons, apples, and grapes, as well as a star and a lucky 7.
The lower left corner of the screen features an autoplay button that allows players to spin the reels automatically. To the right of this is a button to change the bet amount. Above these are the total bet, balance, and win amount for each round. Finally, at the top right corner is the spin button which starts the game.
The Fruit Million slot machine also has several bonus features such as wilds, scatters, and free spins. During a free spins round, the reels become filled with wilds that can help increase winnings. Additionally, during a free spins round, there is a chance for players to win even bigger rewards if they land three or more scatters.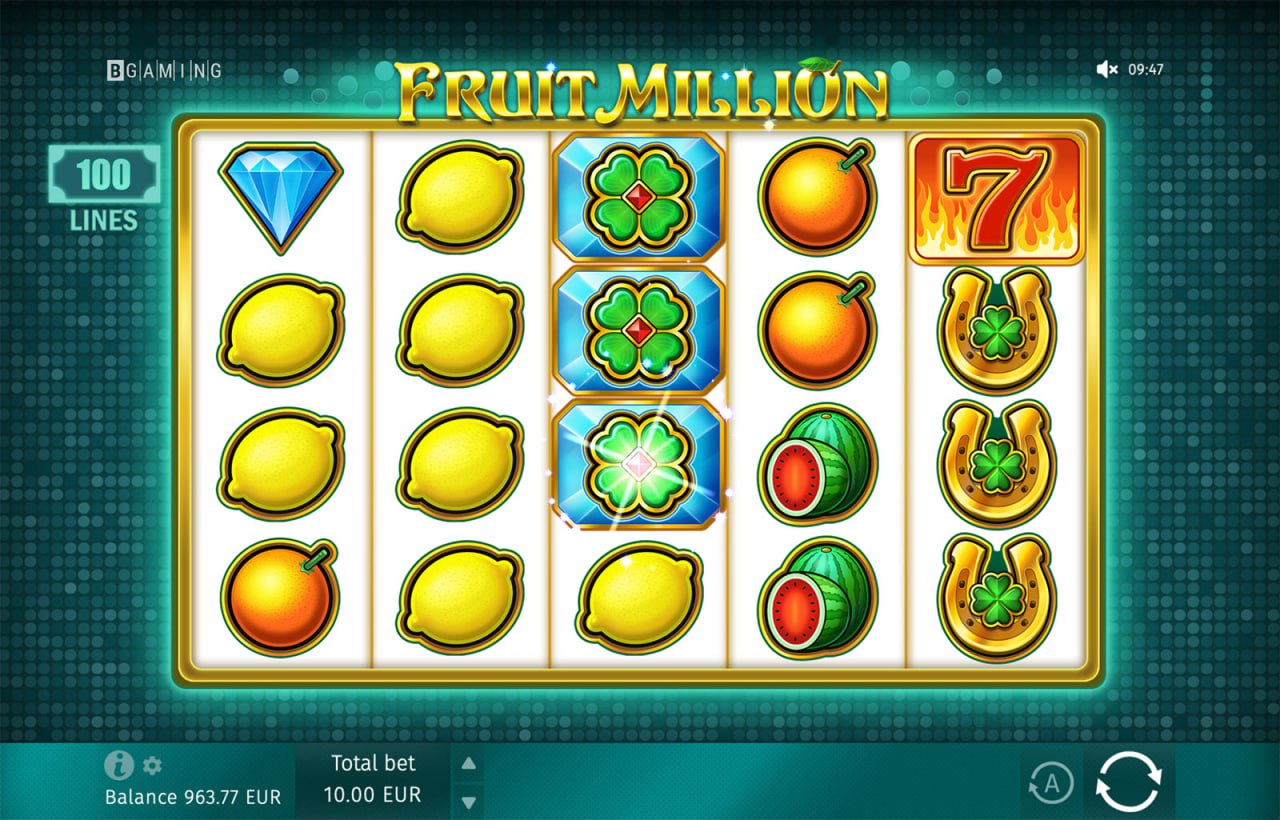 Characteristics of a slot machine
When it comes to playing slots, there are a few characteristics that are key to understanding how to win. These include the Return To Player (RTP) rate, multipliers, paylines and other features that can give you an edge over other players.
The Fruit Million slot machine, is a 5-reel slot with 100 paylines, boasting a 97% RTP rate. It also has great multipliers that allow you to multiply your wins up to 3000x, depending on the number of matching symbols you manage to catch in one spin. Other features include the Wild Symbol and the Scatter Symbol which helps you trigger free spins and get even more chances to win big.
In addition, this slot machine has been optimised for both mobile and desktop platforms, so you can take the fun with you wherever you go. So why not come to Kakadu Casino to spin the reels of Fruit Million and see if luck is on your side?
Fruit Million Demo Mode
Enjoy the Fruit Million for free at Kakadu Casino - it's a perfect way to experience the game before making a deposit to play for money. You can play with free coins and test out how different strategies might affect your chances of winning. Plus, you can see how the symbols and features on the field interact. You will be able to understand the game's payouts and how likely you are to get lucky with different combinations.
By playing the demo mode, you'll also get to explore the different bonus features such as free spins and multipliers. This can help you understand what to look out for in order to land those big wins. The demo mode is also great for getting used to the betting system and learning about different strategies. All in all, it's an excellent way to get comfortable with the game before playing for real money.
Conclusion
Fruit Million slot machine is a popular classic game with a fun and nostalgic feel. The colourful graphics and engaging sound effects create an immersive experience for players of all ages. The slot machine has multiple lines for betting and offers players a variety of ways to win, with generous payouts and bonus rewards. Its bright and vivid colours keep players entertained and make it one of the most enjoyable slots in the Kakadu online casino. The paylines also ensure that wins are frequent and are incredibly generous. Fruit Million is incredibly user-friendly, with its controls easy to use and instructions clear and concise. All in all, it's an amazing and engaging game with something for everyone to enjoy.
Overall summary of total
In conclusion, today we reviewed three of the best slots at Kakadu Casino: Fruit Million, Big Bass Bonanza and Book of Dead. Each slot machine has its own unique characteristics that make it stand out from the crowd. Fruit Million is a classic fruit-themed slot with traditional symbols and simple gameplay, while Big Bass Bonanza has an exciting fishing theme with bonus rounds and plenty of wilds. Finally, Book of Dead offers a captivating adventure set in ancient Egypt with lots of bonus features and potential big wins.
Overall, each of these slots has something different to offer, but all have one thing in common - great entertainment value and exciting gameplay. With their vibrant visuals, engaging stories, and bonus features, these slots are sure to provide hours of fun and chances to win big at Kakadu Casino!
Kakadu Casino at the AskGamblers Awards: become the best with us!
VOTE for KAKADU on Affpapa iGaming Awards 2023
HOW DO ONLINE SLOT MACHINES WORK?
CAN YOU MAKE MONEY PLAYING ONLINE ROULETTE?
What is a Soft Hand in Blackjack?